By Guest Author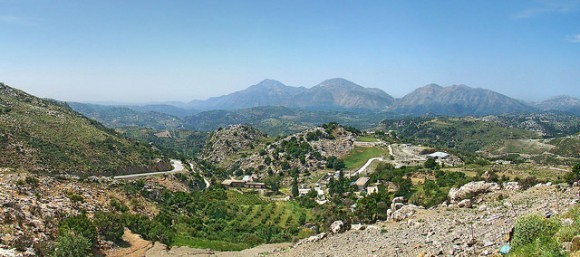 The Greek island of Crete is the largest island in Greece and as the fifth-largest island in the Mediterranean Sea, it's one of the most visited areas for holiday makers. With reliable sunshine and gorgeous beaches, it's no wonder that Crete, as a holiday destination, has been growing in popularity over the last couple of decades.
The beautiful landscape of Crete
History and hiking in Crete
Once the centre of the Minoan civilization, Crete is steeped in history with a smattering of its own cultural traits aside from the cultural heritage that being a Greek island brings.
The name of Crete is probably taken from Mycenaean Greek, ancient texts of which first referred to the island of this name. It is an island with a high mountain range spanning the country from east to west providing a popular destination for hikers, thanks to the stunning views and interesting landmarks.
View over the beautiful valley Greek near Patsos in Crete
A variety of climates
A big consideration when visiting Crete should be the temperature at the time of your visit – while many will enjoy the hot sun and beaches, others may want to visit at a time of year when things are altogether a little cooler. Crete is located on two climactic zones: the Mediterranean and the North African. The atmosphere is usually quite humid, getting less so the closer to the sea you are and winters tend to be refreshing and mild. From November to May, it is not uncommon for snow to fall on the mountains, but it rarely happens in the lower areas. In summer, temperatures can reach as high as 30 degrees Celsius, sometimes more. Crete resorts and hotels will offer air conditioning, but these temperatures can sometimes be a little much for some people.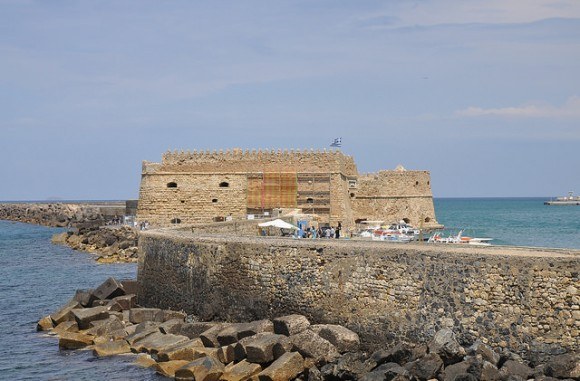 Venetian Fortress of Koules in Heraklion, Crete
Getting Around in Crete
There are three large airports in Crete – being Niko Kazantzakis at the capital Heraklion, a smaller airport in Sita and the third being the Daskalogiannis at Chania. There are also plenty of ferries from mainland Greece to Crete, most of which come from Athens, so you can put together a holiday to include the mainland. There is, however, a lack of modern highways and a great deal of under-serviced roads. Nevertheless, there are often reliable bus services and while there are no train lines in Crete, you won't find it too difficult to get around.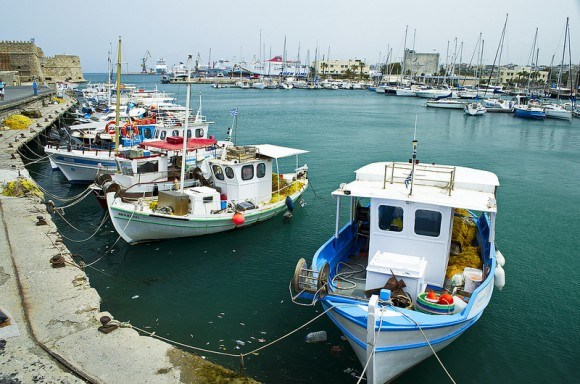 Harbour at Heraklion in Crete
Something for everyone
Regardless of your interests, there's plenty to see and do in Crete. If you are on a family holiday, the Aquaworld Aquarium in Hersonissos is a must. Open since 1995, it's a given for the to-do list thanks to the wealth of activities for children and the beautiful marine life to see. There's also the Amarillis Stable in Stalis, where you can go and enjoy the beautiful scenery from horseback. Treks can be long or short depending on what you want to do; it's a fantastic way to see the island.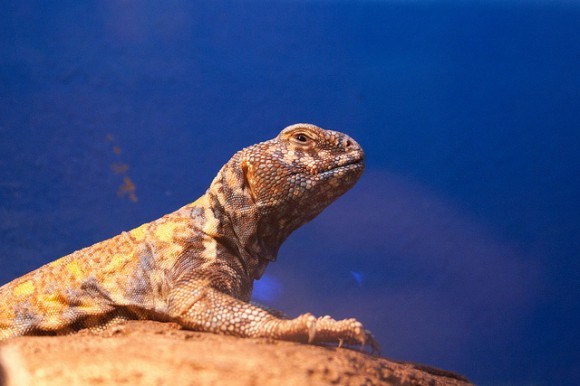 Aquaworld Aquarium in Hersonissos, Crete
For something fun, if a little bit childish, there's the Happy Train at Elounda, in which you get a guided tour of the island from the comfort of an open-topped train. The scenery is beautiful from the hills. There are also a large number of historical and archaeological museums for those of you with a passion for history, including the Nautical Museum of Crete and the fascinating Archaeological Museum of Agios Nikolaos.
Where to Eat & Drink in Crete
On the cheap: Mojo Burgers – Keeping it simple and very reasonably priced, this burger bar wouldn't feel out of place in Shoreditch. With prices starting from a couple of euros for a hot dog, and under five for a burger, this is a definite stop for a bite to eat in Rethymnon.
Best of both worlds: The House – Steak House Restaurant – A must visit for steak fans, and pretty much anything else. A mix of Mexican, Italian, English and much more, this steak house offers a massive menu and very reasonable prices. Set just outside Malia, it's within easy reach from most of the major resorts.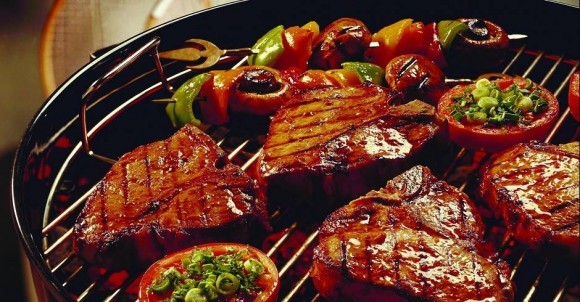 The House Steak House Restaurant in Malia
Blow the budget: Ta Dyo Rou – Set in the old town of Rethymno this wine and cooking shop, or inomageirio, puts an emphasis on quality over portion size. Look out for the traditional Greek meatballs, a real speciality. The shop is also a great place to pick up bulk buys of local wine and organic beer.
Best Cocktails: New York Beach Club – Set right on the sand, this all night long bar serves up excellent cocktails, but some do come at a premium. A great place to relax and watch the sunset, or stay until it rises again!
If this has whetted your appetite for Crete history and culture, you can usually get cheap Greece holidays from Cosmos Holidays without looking too hard!
For more Greek island experiences:
Shipwrecks or Turtles? – taking a boat trip on your Greek holiday to Zakynthos
Three days, three beaches on Zante
Highlights of a trek through Crete
Photo Credit: View over the beautiful valley by Thomas Münter , Crète 2014 – Heraklion by bebopeloula , Aquaworld Aquarium -Hersonissos Crete ,Greece by 4652 Paces, The House Steak House Malia from SteakHouseRestauranttheHouse , Crete Anogeia from wikimedia.org , Venetian Fortress of Koules in Heraklion, Crete from wikimedia.org
This article is originally published at Heatheronhertravels.com – Read the original article here
You'll also find our sister blog with tips on how to build a successful travel blog at My Blogging Journey
Source: Heatheronhertravels